No sooner has Cheltenham ended, has the Flat begun!
Tom Stanley is here to guide you through the Lincoln and the rest of the live ITV Saturday action with Natalie Green, Steve Jones and Micheál Deasy joining him. 
And just like that, the Flat is back!
Still, a couple of jumps races from Kelso previewed but the pick of the action is at a likely decent ground Doncaster with the Lincoln.
It's a race more recently won by the up and coming future group horse and that is where we start.
---
DONCASTER
15:35 THE LINCOLN (HERITAGE HANDICAP) (CLASS 2) (1m)
All in agreement here with the Godolphin horse who has the profile of recent winner Auxerre. Natalie and Deasy also want a horse at a bigger price onside, win and place.
Natalie – Modern News, Notre Belle Bete (win/place)
Steve – Modern News
Deasy – Modern News, Whats The Story (win/place)
---
13:15 THE BROCKLESBY CONDITIONS STAKES (CLASS 4) (5f)
To be completely honest it's a bit of a guess up given no prices or form. Natalie makes the point that it's really worth looking at the tv pictures of the horses as a guide to how forward they are. The consensus from Deasy and Steve is that Persian Force has the right profile. Hopefully, he's the right price.
Natalie – Knowwhatimeanharry
Steve – Persian Force
Deasy – Persian Force
---
13:50 THE CAMMIDGE TROPHY STAKES (CLASS 1) (6f)
Natalie wants the forecast here with Mondammej to chase home Garrus. Steve and Deasy are with Diligent Harry who they feel should be suited back on better ground and dropping in class.
Natalie – Garrus/ Mondamej forecast
Steve – Diligent Harry
Deasy – Diligent Harry
---
14:25 THE SPRING MILE HANDICAP STAKES (CLASS 2) (1m)
Strong shouts for Empirestateofmind who is very progressive and sits at the top of the betting currently at 4.5. Deasy is with General Lee at around a point bigger and equally progressive.
Natalie – Empirestateofmind
Steve – Empirestateofmind
Deasy – General Lee
---
15:00 THE DONCASTER MILE STAKES (CLASS 1) (1m)
Nobody really makes Chindit a backable price but Natalie is adamant he should still be shorter. She probably would back Boosala at current odds. All in all a disappointing turnout.
Natalie – Chindit, Boosala
Steve – Chindit
Deasy – Chindit
---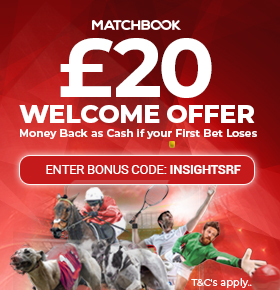 Bet Now
---
KEMPTON
14:05 THE RACING TV MAGNOLIA STAKES (CLASS 1) (1m2f)
Father Of Jazz has always promised much and Natalie hopes the hood will sort him out. Deasy is having a pop at Chichester at 13.0 at the time of recording.
Natalie – Father of Jazz
Steve – Felix
Deasy – Chichester (win/place)
---
14:40 THE RACING TV QUEEN'S PRIZE HANDICAP STAKES (CLASS 2) (London Stayers' Series Qualifier) (2m)
Steve can't see past Bandinelli and for what it's worth I agree. Deasy thinks Auriferous is the overpriced one whilst Natalie wants a few onside against the favourite.
Natalie – Imperium, Justus (win/place)
Steve – Bandinelli
Deasy – Auiferous (win/place)
---
Saturday Preview @_tomstanley_ @natsjanegreen @sjracingmedia & @mdeasy85 share their Best Bets for #ITVRacing tomorrow

Time Stamps for each race available below!

𝗪𝗮𝘁𝗰𝗵: https://t.co/pfwlEvHoWq https://t.co/D5lyH7lcyu

— Matchbook Betting Exchange (@TeamMatchbook) March 25, 2022
---
KELSO
15:15 THE HERRING QUEEN SERIES FINAL MARES' NOVICES' HANDICAP HURDLE RACE (CLASS 2) (2m)
Some strong shouts for Theatre Glory who won well last time and looks fairly treated on handicap debut. Deasy is again looking a little further down the betting to Aliomaana whose trainer is enjoying a fine season.
Natalie – Theatre Glory
Steve – Theatre Glory
Deasy – Aliomaana
---
15:46 RACING TV HANDICAP HURDLE (3M2F)
No strong opinions here but Natalie gives a shout to Kaizer who goes well here. Deasy is with the steadily progressive Wakool.
Natalie – Kaizer
Steve – No bet
Deasy – Wakool
---
Best Bets
Natalie – Theatre Glory (15:15 Kelso)
Steve – Diligent Harry (13:50 Doncaster)
Deasy – General Lee (14:25 Doncaster)
Best of luck!
---
Watch Our Weekend Racing Preview:
---
Subscribe to the Matchbook Betting Podcast here
Subscribe to the Matchbook YouTube Channel here
Check out our Cheltenham YouTube Playlist here
The post The Flat Is Back – Best Bets From Doncaster, Kempton & Kelso appeared first on Matchbook Insights.
Are you looking for a safe, reliable, trustworthy sportsbook? Check out our ratings of the best sportsbooks and their current sign-up offers for new customers.
Read More