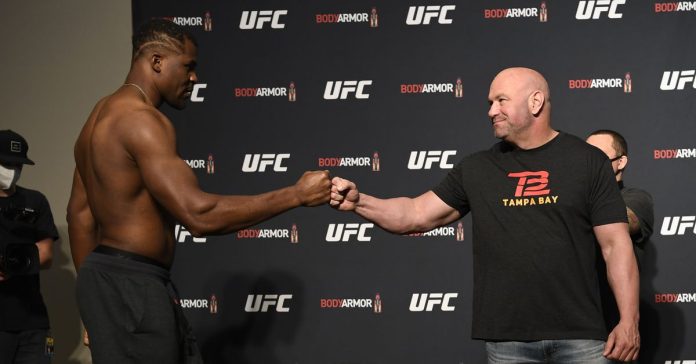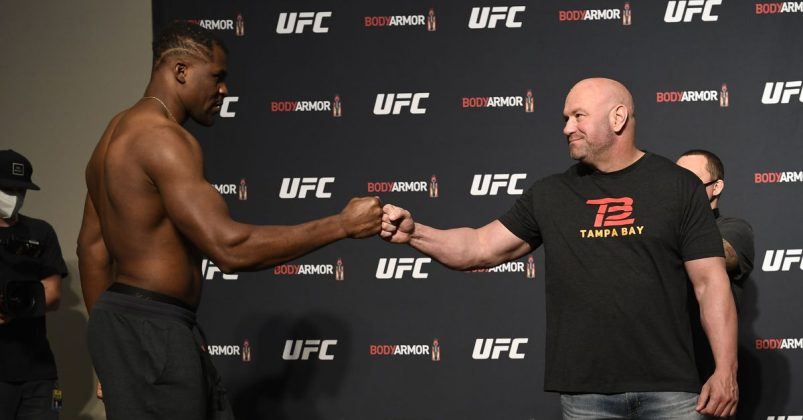 Dana White telah mengungkapkan bahwa dia baru-baru ini melakukan percakapan yang bermanfaat dengan juara kelas berat UFC Francis Ngannou di tengah ketegangan karena masalah kontrak.
Ngannou telah terjebak dalam masalah kontrak dengan UFC sejak musim panas, dengan pertarungan penyatuan gelar melawan juara sementara Ciryl Gane menjadi pertarungan terakhir dalam kontraknya saat ini. Beberapa bulan yang lalu, 'The Predator' mengeluh tentang pembayaran UFC yang mengungkapkan bahwa dia harus meminjam uang untuk kamp pelatihannya. Agennya Marquel Martin juga baru-baru ini mengklaim bahwa UFC belum menjangkau lebih dari enam bulan.
'Dia Telah Sesat'
Berbicara di podcast THE FIGHT with Teddy Atlas, Dana mengatakan bahwa dia baru-baru ini berbicara tentang masalah ini dengan Ngannou, yang dia katakan telah disesatkan oleh manajemennya.
"Francis dan saya bertemu satu sama lain malam itu saat makan malam dan kami berbicara dengan baik dan dia tidak akan habis kontraknya, jika dia memenangkan pertarungan itu," kata Dana. "Saya pikir dia punya satu pertarungan lagi dengan kami setelah itu. Anda tahu, saya mengatakannya sepanjang waktu, olahraga ini menyenangkan bagi saya, saya suka melakukan ini, Anda tahu dan bertentangan dengan narasi di luar sana, Anda tahu, kami telah membuat banyak orang menjadi sangat kaya. Dan jika Anda tidak ingin berada di sini, ini bukan tempat yang Anda inginkan untuk menjadi baik, itu tidak menyenangkan bagi Anda dan jelas juga tidak menyenangkan bagi saya.
"Jadi ini semua adalah pria dan wanita dewasa dan setiap orang harus membuat keputusan sendiri dalam hidup dan menempuh jalan mereka sendiri. Tapi saya pikir Francis dan saya memiliki percakapan yang baik. Saya pikir Francis telah disesatkan juga oleh beberapa orang yang tidak terlalu pintar, Anda tahu, itu juga tidak membantu ketika Anda mendapatkan beberapa orang di belakang Anda yang tidak tahu apa yang mereka bicarakan.
Ngannou terakhir kali bertarung di UFC 260, di mana ia mengalahkan Stipe Miocic di ronde kedua untuk memenangkan gelar kelas berat.
Apakah Anda setuju dengan Dana White bahwa Francis Ngannou telah disesatkan oleh orang-orang di sekitarnya?
Lihat juga:
Terkait