Tom Stanley is here with the selections from our Cheltenham Handicap Preview with Matt Tombs, Declan Rix and Micheál Deasy.
We have £25 Free Bets to give away during Cheltenham week so make sure you like the YouTube video below and comment your Handicap NAP.
Hopefully, you've seen/ read our Grade 1 Cheltenham preview. If not, you can find it here.
We've tried to be as specific as possible with the handicaps but obviously, there's no certainty as to what goes where.
As with our Grade 1 preview, we start with a key trend for each race from Matt which will point you towards the under bet horses.
---
Ultima Handicap Chase
Horses 7lb or more below their hurdles mark are 5/14 in the last 13 renewals – 50pt (392%) profit.
Tom – Spiritofthegames, Oscar Elite, Alnadam, Tea Clipper
Matt – Oscar Elite
Rixy – Kiltealy Briggs, Tea Clipper – small mention to Empire Steel, Fantastikas, Grumpy Charlie
Deasy – Vintage Clouds, Our Power, Discordantly
---
Boodles Juvenile Hurdle
7 of the last 10 winners have gone off between 26.0 and 81.0, all were 15th or lower choice of the punters in what's now a maximum field of 22.
Tom – Swinging London, Elliott outsider
Matt – No bet
Rixy – Lunar Power, Ebasar
Deasy – Champion Green
---
Coral Cup
No first season novice has won – 14 of the 21 renewals this century have been won by second season hurdlers.
Tom – No bet
Matt – Saint Felicien
Rixy – McFabulous
Deasy – Drop The Anchor
---
Grand Annual
Horses that went off in the front 3 in the market the last time they ran in the Grand Annual are 6/26 in the last 16 renewals – 73pts (281%) profit.
Grand Annual winners this century 0/56 in handicap chases the following season.
Tom – Sky Pirate
Matt – Embittered
Rixy – Editeur Du Gite, Gumball
Deasy – Sky Pirate, Before Midnight, Embittered
---
Pertemps Network Final Handicap Hurdle
The 10 runners from Cullentra House have finished 2121512354 in the last 6 renewals.
Tom – Tullybeg
Matt – Folcano
Rixy – Remastered
Deasy – Tullybeg, Dunboyne, Born Patriot
---
Plate Handicap Chase
16 of the first 17 winners this century went off 13.0 or bigger, the last 4 have gone off 6.0 or shorter.
Tom – Spiritofthegames, Pink Legend
Matt – Imperial Alcazar, Spiritofthegames
Rixy – No bet yet
Deasy – Busselton, Imperial Alcazar
---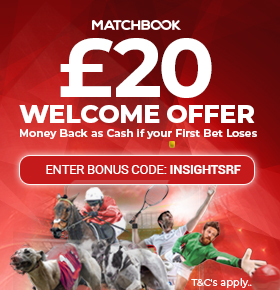 Bet Now
---
Kim Muir Challenge Cup
In the 12 New Course renewals jockeys who claimed are 2/96.
Tom – Glenloe but need riders before making decision
Matt – Frontal Assault
Rixy – No bet
Deasy – Glenloe, Commodore
---
County Hurdle
In the last 27 renewals, handicap debutants are 1/81.
Tom – Carrarea / Mullins unfancied hold-up horse
Matt – Magic Tricks
Rixy – Colonel Mustard
Deasy – State Man, Jesse Evans
---
Martin Pipe
Last time out winners are 6/64 – 30pt (48%) profit.
Tom – I A Connect (2 or 3 of Elliott's)
Matt – Chemical Energy
Rixy – Banbridge, Fair Frontieres, Au Fleuron
Deasy – Lay Langer Dan
Cheltenham Handicaps @_tomstanley_ @thespieler @HawkWing2002 & @mdeasy85 have some strong:

– 𝗕𝗲𝘀𝘁 𝗕𝗲𝘁𝘀
– 𝗕𝗲𝘀𝘁 𝗣𝗹𝗮𝗰𝗲 𝗟𝗮𝘆𝘀

£25 Cheltenham Free Bet up for grabs on our YouTube video

𝗪𝗮𝘁𝗰𝗵: https://t.co/0l5m4UdwMP https://t.co/5993Wq8AGr

— Matchbook Betting Exchange (@TeamMatchbook) March 10, 2022
---
Top Trainer
Both Matt and Deasy think Gordon Elliott could be overpriced by the market considering his strength in the handicaps.
---
Best Place Lay
Tom – State Man (County) / Gaelic Warrior (Boodles)
Matt – State Man (County)
Rixy – Does He Know (Ultima)
Deasy – Gaelic Warrior (Boodles)
---
Best Bet
Tom – Tullybeg (Pertemps)
Matt – Saint Felicien (Coral Cup)
Rixy – Kiltealy Briggs (Ultima)
Deasy – Before Midnight (Grand Annual)
---
Watch our Cheltenham Festival Handicap Preview:
---
Subscribe to the Matchbook Betting Podcast here
Subscribe to the Matchbook YouTube Channel here
Check out our Cheltenham YouTube Playlist here
The post Cheltenham Handicaps Preview – Declan Rix | Matt Tombs | Micheál Deasy appeared first on Matchbook Insights.
Are you looking for a safe, reliable, trustworthy sportsbook? Check out our ratings of the best sportsbooks and their current sign-up offers for new customers.
Read More