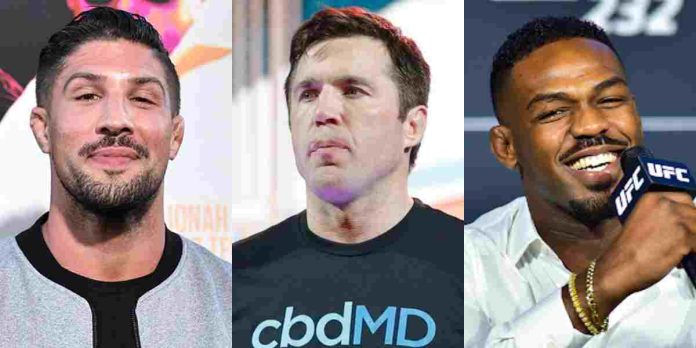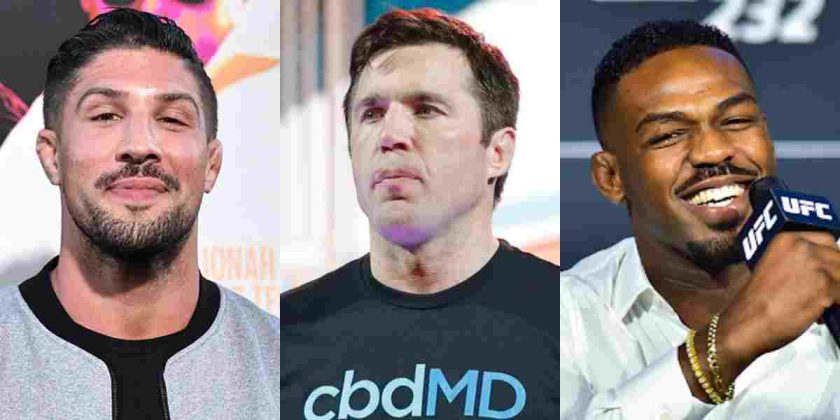 Brendan Schaub datang untuk membela Chael Sonnen setelah Jon Jones mengkritiknya atas penahanannya dengan lima kutipan baterai.
Menurut polisi, Sonnen melakukan pelanggaran ringan terhadap lima orang berbeda Sabtu lalu di dalam Luxor Hotel and Casino di Las Vegas, bertentangan dengan laporan awal bahwa pertengkaran itu terjadi di Four Seasons. Sementara rincian lengkap dari insiden tersebut belum dipublikasikan, petugas informasi publik Polisi Las Vegas Larry Hadfield mengirimkan pernyataan singkat.
"Sonnen dikeluarkan kutipan baterai untuk setiap korban individu, kemudian dikawal keluar properti. Karena pelanggaran dilakukan di luar kehadiran petugas polisi, penangkapan tidak dilakukan," kata pernyataan itu.
Sehari setelah kejadian itu, Jones turun ke Twitter dan memberikan reaksi beragam tentang penahanan mantan lawannya, menawarkan harapan terbaiknya, tetapi juga mengkritiknya secara tidak langsung.
Tweet Jones sebagai tanggapan terhadap Sonnen yang mengkritiknya ketika dia ditangkap atas tuduhan pelanggaran ringan kekerasan dalam rumah tangga dan merusak kendaraan pada bulan Agustus. Banyak netizen yang membela 'The American Gangster', mengingatkan 'Bones' akan semua hal kontroversial yang pernah dilakukannya di masa lalu.
Schaub Membela Sonnen
Berbicara di podcast 'Below The Belt', Schaub juga membela Sonnen di tengah kritik dari Jones.
"Jadi saya pikir dengan melakukan ini Chael, itu hanya menambah legenda Chael Sonnen," kata Schaub. "Dia melindungi gadisnya. Dan untuk si tolol yang benar-benar dimusnahkan oleh Chael Sonnen yang hebat, kau pantas mendapatkannya. Dan itulah yang Anda dapatkan.
"Jadi, Anda memainkan permainan bodoh, menangkan hadiah bodoh. Ini bukan kasus Chael memukul istrinya seperti Jon [Jones] telah melakukan. Saya pikir mereka membatalkan tuduhan. Ini bukan kasus Chael Sonnen mabuk dan merusak Bentley-nya dengan penari telanjang di dalam mobil. Ini bukan kasus kekerasan dalam rumah tangga Chael dalam segi apapun. Dan saya pikir semua orang harus memegang penilaian mereka untuk mendapatkan lebih banyak detail. "
Schaub Mengklaim Chael Melindungi Istrinya
Schaub juga mengklaim bahwa insiden baru-baru ini Chael berasal dari istrinya yang dilecehkan.
"Inilah yang terjadi. Apakah Chael jelas bekerja dan dia bersama istrinya dan istrinya adalah orang suci dan juga sepotong uang receh, "kata Schaub. "Dan beberapa pria mabuk dengan gadisnya terus membuat komentar tentang istrinya, mengatakan tentang pantatnya, pantatnya, tepat di depannya. Nah, mainkan permainan bodoh, menangkan hadiah bodoh, karena Anda berbicara dan tidak menghormati salah satu pria terberat di planet ini dan pasti salah satu yang terberat yang pernah bersaing di UFC atau Bellator dalam hal ini. Dan Anda melakukannya di depan wajahnya, maka akan ada akibatnya. Dan pria mana pun yang ingin melakukan itu untuk gadis / wanita mereka, Anda punya pacar. "
Jones belum bertarung sejak pertarungan gelar kelas berat ringan melawan Dominick Reyes pada Februari 2020 di UFC 247, yang dimenangkannya dengan keputusan bulat yang kontroversial. Dia mengosongkan gelar beberapa bulan kemudian pada bulan Agustus, dan sekarang mengincar kenaikan ke kelas berat.
Apakah Anda setuju dengan komentar Brendan Schaub tentang Chael Sonnen dan Jon Jones?
Lihat juga:
Terkait