Tom Stanley is here with the Best Podcast Bets from Ripon, Newbury & Newmarket on ITV Saturday…
I'll be honest, it's a disappointing weekend field size-wise. Best race comes in the form of the feature at Newbury, the Hungerford Stakes, and that's where we finish up.
Two podcasts for you next week for the Ebor Festival – Tuesday at 12:00 and Thursday at 11:00. See you there!
Weekend Preview:@_tomstanley_ is joined by @acmulrennan @mdeasy85 & @sjracingmedia to cover Ripon, Newbury & Newmarket on ITV Saturday

Watch: https://t.co/QSiw1S82QE pic.twitter.com/0mb3Ym41oJ

— Matchbook Betting Exchange (@TeamMatchbook) August 12, 2022
---
13:20 Newbury – 1m2f Handicap
A fairly strong opinion first up, personally. I thought Rogue Rocket would love the step-up in trip and was overpriced against some horses with questions to answer. Steve and Deasy are with General Lee, who is back over 10 furlongs on his preferred quick ground.
Tom – Rogue Rocket
Adele – No bet
Steve – General Lee
Deasy – General Lee
---
13:40 Ripon – Silver Trophy Handicap
Wen Moon has the rail to help argues Adele and is the most likely winner. New Definition wants 6f is the angle most are approaching this from, and for that reason, Steve and I are with Prince Of Pillo, who travelled strongly last time and should cope well with the drop to 5 furlongs.
Tom – Prince Of Pillo
Adele – Wen Moon
Steve – Prince Of Pillo
Deasy – No bet
---
13:55 Newbury – Denford Stakes
Victory Dance looks above average and is down in grade and will do for a couple of the panel. It's Ferrari Queen for Steve, who has a similar profile to the trainer's winner of this a few years ago. She should have the run of things.
Tom – No bet
Adele – Victory Dance
Steve – Ferrari Queen
Deasy – Victory Dance
---
14:10 Newmarket – Discover Newmarket Fillies' Handicap
Steve and Adele are not convinced by the favourite and Australian Angel is progressing. She's the price to take against Atlantis for them. Deasy is with Atlantis who won in the cheek pieces last time and should appreciate stepping up in trip.
Tom – No bet
Adele – Australian Angel
Steve – Australian Angel
Deasy – Atlantis
---
14:30 Newbury – Geoffrey Freer Stakes
Could Outbox nick this form the front? Steve and I hope so. It's Zechariah for Adele who has good form from Ascot for all he disappointed last time. Deasy agrees he has the best form, and he suggests 3-year-olds have a decent record in this.
Tom – Outbox
Adele – Zechariah
Steve – Outbox
Deasy – Zechariah
---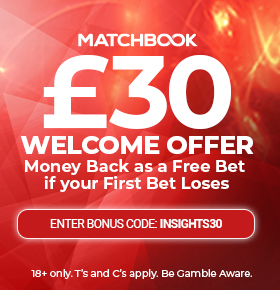 Bet Now
---
14:50 Ripon – Great St Wilfrid Handicap
Tim Easterby is the leading trainer at Ripon and sends out Snash who should get a nice tow into the race. Steve and I want likely rail leader Emperor Spirit on side and I'll chance last year's winner too. Deasy agrees on Snash and will also have a bit on Misty Grey.
Tom – Emperor Spirit, Justanotherbottle
Adele – Snash
Steve – Emperor Spirit
Deasy – Snash, Misty Grey (both w/p)
---
15:00 Newbury – 7f Handicap
Deasy thinks Fivethousandtoone is ready to win again, for all he hasn't made a habit of it. Adele is with Gisburn who ran well in the circumstances at Goodwood and has won here before. Steve and I will chance Silent Film, who ran better than the bare result in the Bunbury Cup.
Tom – Silent Film
Adele – Gisburn
Steve – Silent Film
Deasy – Fivethousandtoone
---
15:18 Newmarket – Grey Horse Handicap
Steve thinks Mister Bluebird will have the run of this and is ultra-consistent. Adele gives the vote to Verreaux Eagle in the first time visor, whilst Deasy thinks Strike will have this run to suit. I'll chance Come On Girl for a trainer with a decent record in this but no strong opinions all in all.
Tom – Come On Girl
Adele – Verreaux Eagle
Steve – Mister Bluebird
Deasy – Strike (0.25 Win/0.75 Place)
---
15:35 Newbury – Hungerford Stakes
Steve thinks this should set up perfectly for Tiber Flow, who lines up for last year's winning trainer. I agree but feel Dubai Poet is too big against him off the back of his Ascot run. Happy Romance wants 7 furlongs now, argues Deasy, and she likes the track. Adele is going rogue with Wings Of War at 22.0.
Tom – Dubai Poet
Adele – Wings Of War (win & place)
Steve – Tiber Flow
Deasy – Happy Romance
---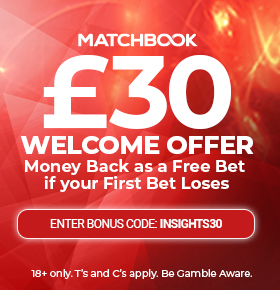 Bet Now
---
Any Other Bets
Tom – First Officer (FRIDAY 15:25 Nottingham)
Adele – Pisanello (15:25 Ripon)
Steve – No bet
Deasy – No bet
---
Best Lays
Tom – No lay
Adele – Lay Frantanck (13:20 Ripon)
Steve – Lay Mum's Tipple (16:28 Newmarket) – 2.5 or less
Deasy – Lay Search For A Song (16:40 Curragh)
---
Best Bets
Tom – Justanotherbottle w/p (14:50 Ripon)
Adele – Gisburn (15:00 Newbury)
Steve – Emperor Spirit (14:50 Ripon)
Deasy – Snash (14.50 Ripon)
Best of luck!
---
Watch Our Weekend Racing Preview:
---
Subscribe to the Matchbook Betting Podcast here
Subscribe to the Matchbook Youtube channel here
The post Best Podcast Bets Ripon, Newbury & Newmarket appeared first on Matchbook Insights.
Are you looking for a safe, reliable, trustworthy sportsbook? Check out our ratings of the best sportsbooks and their current sign-up offers for new customers.
Read More